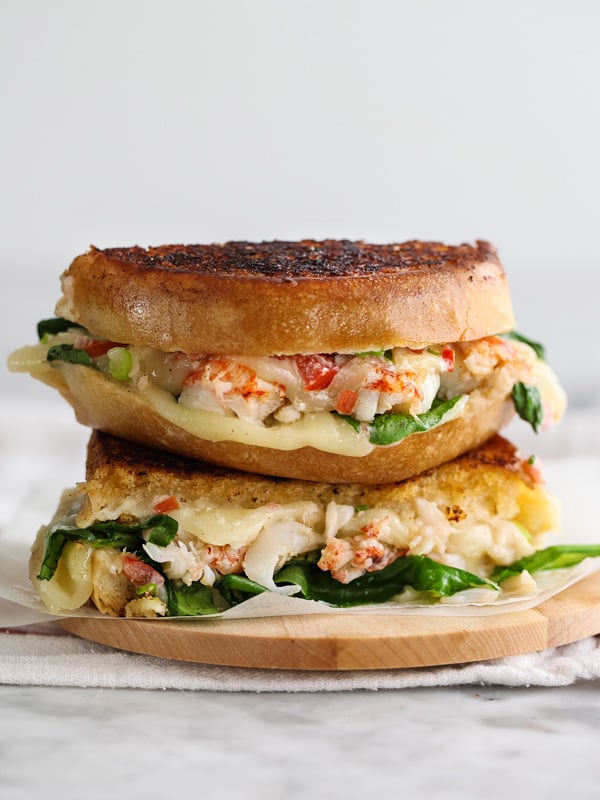 Hard to believe that the weekend has come and gone so fast. I won't lie to you guys, I pretty much just hung around and did nothing specific. What about you? Now, we're looking at just 4 more days until we get to do it again. Well maybe not, I've been slacking (a little) but don't worry I have some exciting stuff coming up and I promise you guys, you will see more.
Speaking of coming up, Florida's Lobster "mini" Season, (July 27th and 28th), is fast approaching. Been the considerate blogger-friend that I am, I'm sharing this all-so delicious looking sandwich for all you seafood lovers. A lobster grilled cheese sandwich (yummy), I could just taste the buttery cheesy creation. I had this recipe saved from FoodieCrush and what a perfect time to share it. Actually, anytime I find a recipe that combines cheese and seafood I will ALWAYS save and share.
This sandwich was actually part of grilled cheese sandwich contest and won, Bravo! to chef Veronica Callaghan for not only winning the best sandwich at the contest, but all also the jackpot of $10,000.
Heidi, one of the judges and food blogger at FoodieCursh wrote, "
I knew it was going to be a winner as soon as I tasted it
." That's a serious sandwich, sure beats any fish sandwich from a fast food joint. And,, what a great alternative at a brunch instead of the boring ham and cheese sandwich.
So what goes into a lobster grilled cheese sandwich? scroll down.
Kennebunkport Lobster Grilled Cheese Sandwich
Serves:
makes 2 sandwiches
Ingredients
4-6 tablespoons (1/2 to ¾ stick) butter, room temperature
1 teaspoon chili paste
½ cup (4 ounces) Wisconsin Mascarpone Cheese, softened
2 scallions, thinly sliced (white and green parts)
¼ cup tomatoes, small dice
4 slices country-style white bread
No worries, there's more to this sandwich, want to see the rest? visit foodiecrush.com,
HERE
,
BUT WAIT
! before your click on the link, here are some additional things that you need to know:
July 27-28 Lobster Mini Season
August 6 through March 31 is the regular season
Visit the Florida Fish and Wildlife for all the rules and regulations. Yes ladies and gentlemen, they are rules to this game. Don't expect to drive down to the Keys with a big black garbage bag and thinking you're going to fill it up with lobster.
Are you following me on
Instagram
,
Facebook
,
Google Plus
and
Pinterest
. Don't forget to
subscribe to this blog
to have each post delivered straight to your mailbox.