As we wind down from Summer and my kid is heading to school, this is the perfect time to share what I'm crushing on. Actually, I was thinking more of the fact that my little one is entering Kindergarten and we'll probably BOTH be shedding some tears, I might be to distracted to post anything. #FirstTimeMommyProblems.
In any case, you know I'm always looking for that special thing, that pretty dress, a beautiful venue, a great recipe or DIY to share with you all. And this post is a compilations of things that I just have to share and I'm absolutely obsessing over.
And these are not in no particular orders either.
This company will personalize your nail polish bottle to fit, well whatever message you want to convey. On my
Instagram
page, I have the bottle that asked, "Will you be my bridesmaid?" I mean how cool is that? Not to mention they have a bunch of pretty colors. The Australian based company do ship to the U.S. The only "downside" is the steep $39 shipping fee for orders of 1 to 12 bottles. Do the math, if it adds up and within your budget, this would be a perfect bridesmaid or shower gift.
First off, the man is FINEEE! Then he designed tailored suits for those who wants to look and be GQ. Along with his business partner, Aleks Musika, they've created a place where men can shop for luxury menswear just like Kevin Hart who wore a Musika Frere tux for his wedding last weekend. Did I mention, he's FINEEE. Okay maybe I did. I have to be honest, I recently stumbled onto this company, but ladies, show this post to your husband, boyfriend, or male friends that can really appreciate what a custom-tailored suit do for men and us.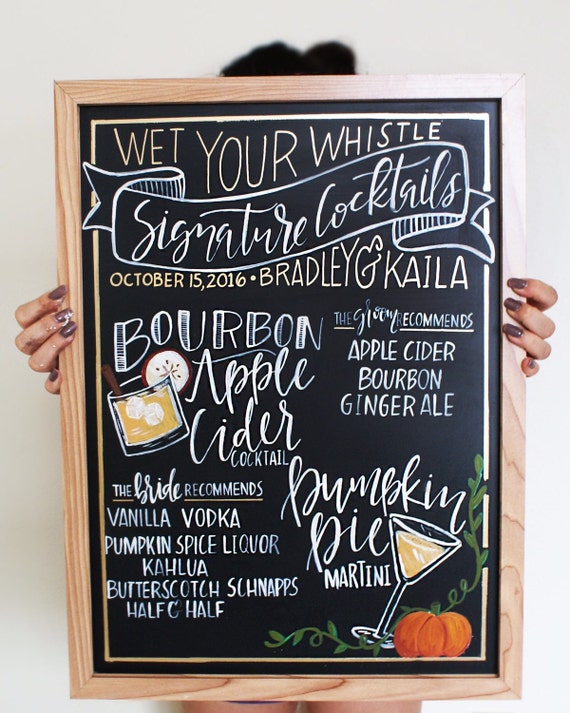 This combines my love of Calligraphy, chalk signs and cocktails in one neat package. I'm thinking this sign at the bar at your wedding reception. What a great sign? And look at the size. It's well worth its price tag and this can be personalize to fit your event. (tell her I sent you).
Let's take a deep breath for this next one,
Ka_Ka_Man
At first the floral chairs caught my attention and after five mesmerizing minutes, I zoomed out to the rest of the room. Wow! This venue just screams ELEGANCE. The pale brush color, one of my favorite colors, is stunning with the flowers. This event was definitely designed for a king and queen. GORGEOUS!
This one is pretty easy, buy a wine rack, buy a few bottles of wine, invite a few friends over and drink wine, and use wine rack as a towel holder in your bathroom #DIYHacks at its best. Oh yeah, get more wine.
This is just the cutest table name setting I've seen in a long time. Who doesn't love a personalize banner? With $13 for 12 banners, you can't go wrong. I say GO FOR IT. Your guests will love them.
I love this fall look from Eloquii. It's such a chic design and perfect for those cool fall mornings and warm afternoon suns in South Florida. The dress is $99.90 with a 50% off sale. See their site for more details.
This last one (and yes I do have more, so go ahead follow and subscribe to this blog for part two of this post) as I was saying, this last one is for my sister who is never afraid to try a new recipe and never fail.
Stir-Fry Homemade Rice with Honey Wings
Last week I shared with you guys her sweet honey wings along with my stir-fry rice recipe. There's just something about wings that I can explain of how much I love them. I could not eat any other part of a chicken and be completely satisfied with just wings. It was a big hit at dinner. Another favorite of mine is stir-fry rice, so easy to make at home and a lot healthier than some corner Chinese restaurant.
You can see the full post,
HERE
.
And there you have it peeps. I hope you enjoyed this post and stay tuned for part two.
Please share this post with your friends and family and don't forget to follow us!