One on the best things to add to any event or wedding is personalize details sprinkled here and there. Done with taste and good judgments is a must for best results and most wow effect. So before you go and add your new last name on that 2x2 picture frame, ask yourself - WHO NEEDS THAT SMALL ASS FRAME? Not only are they not practical (in my opinion) they are also outdated and expensive, believe or not.
No fear though, there's still hope for you and I'm here to help.
With the explosion of sites like Pinterest ideas are endless, and some of those ideas are not for the DIY-challenged folks. So how can you personalize your wedding or event without breaking the bank?
Let's take a look at these:
Personalized Favors
These DIY favor bottles were a big hit at the wedding I did a few years ago. The stickers were ordered online at Etsy and the bottles filled with Haitian Cremas (eggnog). We could not keep them on the tables long enough. The stickers were super affordable and easy to add to the bottles bottles.
Wedding Dance Floor Decal
How about a Mr. & Mrs. sign on your dance floor. This sign can be ordered right from
Etsy
and it's a lot cheaper than the light projection. But if there's room in the budget, add on the light monogrammed initials.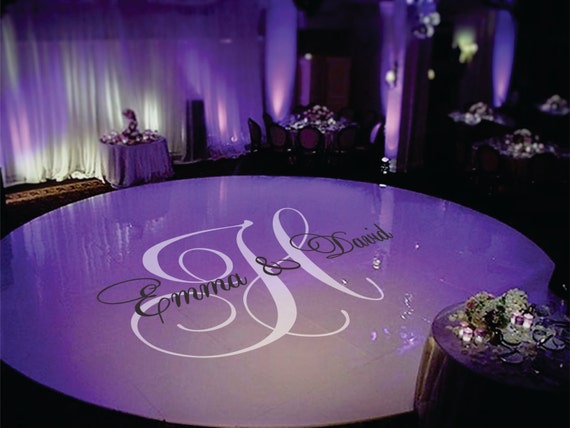 Monogrammed Aisle Runner
This beautiful runner is another way to add that special touch to your wedding. There are hundreds of company that can do this for you, just make sure you research them and ask questions.
This design is from p
hoto by Brett Matthews Photography; Aisle Runner by The Original Runner Company

;

Venue

:

Oheka Castle
Image Source: insideweddings.com
Ceremony Fans
Long been a favorite for an outdoor wedding. You won't find those on the ground. These
Etsy DIY set for 110 Hand Fans
are another great personalized addition at a great price. If you are pretty good with computers and graphics, designed them yourselves and have them printed at shop. The sticks you can get them from your local craft store.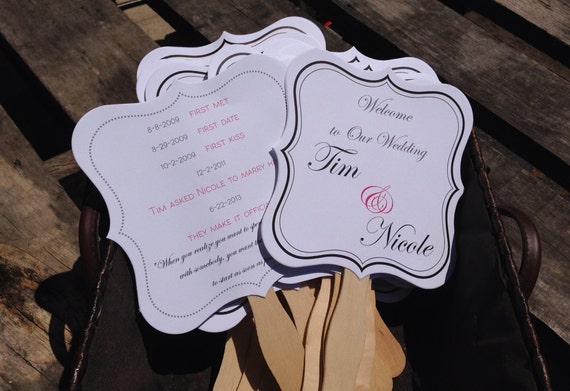 Cocktail Napkins
Having an open bar, add some personalized cocktail napkins. No one forgets what's in their hands when they holding a drink and
For Your Party
have the perfect napkins for you.
Monogrammed Caked
Whether you're having a one-tiered cake or five, add your initials to one of the tiers and BANG! instant class and pizzazz.
Image Source: weddingomania.com
Personalized Wine Bottle Table Numbers
Forget the cheesy table numbers, how about a personalized wine bottle table number
icustomlabel
have the perfect label for you. Buy some cheap bottle of wine or champagne and affix the labels on them. Use the bottles not just as a table number but perfect when you're ready for that toast.
Image Source: inspiration.cricut.com
Personalized Acrylic Sign
Want to kick things up a notch? This
Acrylic Sign
is the way to go and this Etsy shop will customized it for your specific wedding. Menu or bar signs, either way it's a great personalized detail.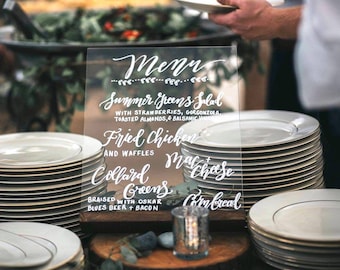 Welcome Sign
Welcome your guests with style. This super cute
welcome sign
is the perfect "first photo." Incorporate your theme or write a poem, just make it yours.
Wedding Aisle Signs
Lead your guests on a journey as they walked down to their seats. Share a picture, poem, verse or fun little tidbits about your and your future hubby and watch how many time your wedding hashtag get shared.
Image Source: http://www.i-do.com.au
Wedding Glasses
Keep the glare out of your guests eyes, with these
cool white shades
. They will be an instant hit and make great photo props
And there you have it, the perfect personalized items that won't break the piggy bank and will definitely WOW your guests.
Can you think of more or did you have the perfect personalized detail? Share it with us in the comment. Don't forget to share this post and subscribe to this blog and never missed out on a post. I have a great Thanksgiving post coming up. Want to Feng Shui your table spread or get a great recipe idea, that post will definitely be for you.
Subscribe Here!