I have to start off by saying I really debated whether I was going to do this particular post. I thought, how can I make this relatable to my blog and readers? After some thoughts, I came to to - "Oh, what the hell." Somewhere out there, one of my readers is planning a Halloween party and need a little guide. There's a bride-to-be out there planning a Halloween extravaganza as part of her pre-wedding celebration or maybe you just want a kick-ass decoration that's not cheesy.
So here it is, a Halloween party decorations designed to impress and spook your guests. This tablescape above barely cost $50 to create but depending on what you're adding, give or take a few more dollars per table and if you're hosting this at home, even less.
So what do you need?
First of all, and in my opinion, Halloween is nothing more than a day where you get to dress up in a silly, scary or superhero costume and not get Baker Acted, that's it! I don't bring any other meanings to it. And if I can speak as a life coach - do what works for you and your family. People will always have something to criticize. That's just human nature. So go ahead and host your Halloween party. Invite your future in-laws to see your silly fun side.
Like every other event, make sure to have your guests list, music, food and lots of drinks. This year Halloween falls on a Tuesday, so you might be looking at the Saturday before. Step it up, and have The Walking Dead playing on the large screen or just pre-picked some other scary movies. Get fake spider webs and props from Party City. Don't go crazy, it's just Halloween.
Back to the design - what do you need:
Black tablecloth
Silver chargers (you can even go red)
Black dinner plate
Silver utensils
Red napkins
Manzanita branches
Glass tubes
Fake bird, spider & rat (or not)
Syringe
Goodies bag
Tea candle holder and candle
The only items I did not get from Dollar Tree were the table cover, napkins, utensils and branches. I did this sample table last year actually for another party, so there may be more items there or at Michaels that you can get. The branch is the most expensive item on the table. While you may be able to find them at Michaels, Hobby Lobby or even Homegoods, you can substitute some nice branches from your local park, just don't get caught cutting down branches (hahaha). If you go that route and scour around your neighborhood for branches, you can spray them any colors that you want.
Remember, I said depending on where you're hosting your party, well if you doing this at home, you may only have the one or maybe two tables to decorate.
The syringe and glass tube were filled with fruit punch mixed with honey and I wrote the blood type on there.
Simple right? How about some drinks to go along with that?
1. Zombie Cocktail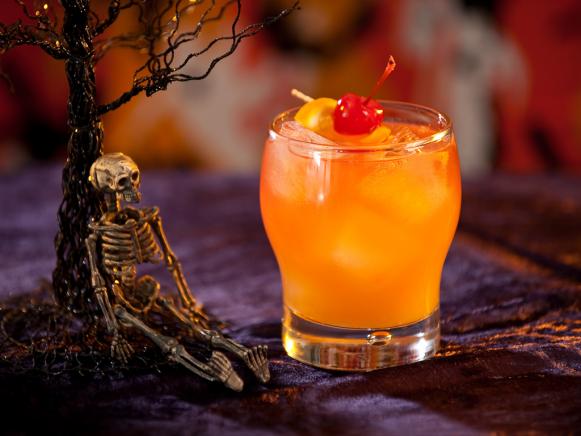 Who said you have to wait for the zombie apocalypse? Have your guests do a zombie Thriller Dance like MJ (I just aged myself, oh well).
INGREDIENTS:
1 oz. apricot brandy
1 oz. light rum
1 oz. dark or Jamaican rum
1 oz. lime juice
2 dashes grenadine
orange juice
1 oz. Bacardi 151 rum
See the full recipe, HERE.
2. The Witch's Heart
INGREDIENTS:
3. Vampire Kiss Martini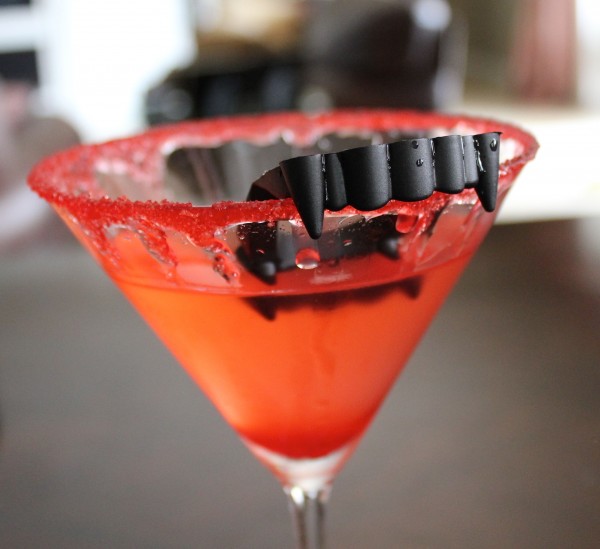 INGREDIENTS:
3 oz. Chilled Pinnacle "Whipped" Vodka or Vanilla Vodka
Strawberry Sundae syrup
Plastic vampire teeth as a garnish
Need some food ideas?
1. Deviled-Eggs
See the full recipe,
HERE
.
2. Skull Guacamole
See the full recipe,
HERE
.
3. Scary Lasagna Face
See it the full how-to,
HERE
.