Hey guys (long time no speak). Well as with most parents, the summer days are keeping us busy. So let's jump right into it.
I actually been working on this post for a while now. I've always been fascinated with weddings from around the world. I consider myself to be more in the middle between traditional and doing my own thing. So with that being said, I wanted to see what other brides' traditions were in their home countries.
Whether your wedding is traditional or non-traditional, remember it's all about the two of you and throw out some of the rules and enjoy your day. You'll be surprise at some of the cool traditions that other countries have.
Let's take a look at five traditions that you may be able to incorporate in your own wedding.
Disclosure: Some of the links in this post are affiliate links and if you go through them to make a purchase I will earn a small commission for purchases made through those links, at no cost to you. This will help to support the blog and allows me to continue to provide free contents.
Nigerian wedding
Image Source: http://lifestyle.ynaija.com
Nigerian weddings tends to be bright and colorful. Although more brides are choosing to adapt the western traditional white dress, many brides are choosing to stick the traditional attires. And with more than 300 different tribes within Nigeria, each have their own custom colors and style.
Here are some key traditions from a Nigerian wedding:
Nigerian couples often have two weddings, religious ceremony followed by a cultural traditional ceremony
Everyone is invited - so toss out that guests list
Make it rain - A long-standing wedding tradition is to throw money on the bride.
Indian Wedding
Image Source: https://www.maharaniweddings.com
Like a Nigerian wedding, Indian weddings are bright and colorful. A traditional Indian wedding is a three-day affair. t
he first night, a priest will often perform the ganesh pooja, a ceremony that usually happens at home with only the couple, the bridal party and close relatives in attendance. (via theknot.com)

Next the Mehndi ceremony. The bride and her female friends and family members will have beautiful henna patterns drawn on their hands and feet. Later on, the Sangeet takes place. This is where the guests are invited to meet the couple's family for fun-filled night of eating and dancing.

The third day, which is the main ceremony day.
Here are some key traditions from a Nigerian wedding:
Hindu weddings are supposed to take place outside under a canopy known as a Mandap
The walk around the fire. That's when the couple walks around the fire four times. Each turn represents a major goal in life: Dharma, morality; Artha, prosperity; Kama, personal gratification; and Moksha, spirituality
The Move over ladies, the groom gets his own processional. He usually rides up in a fancy car, a horse, or even an elephant - talk about making an entrance.
The bride and groom's exchanging of flower garlands, usually roses.
Ghana Wedding
Image Source: https://www.youtube.com/watch?v=R1RnX8g1QFs
Kente is the traditional cloth of Ghana and is created in a variety of colors and patterns, each with different meanings. In a traditional Ghana wedding, prior to the wedding ceremony, the groom is REQUIRED to send gifts to the bride - from clothing to jewelry. On the day of the actual wedding, the groom will send representative to the bride's house to escort her over to his home.

Japanese Wedding
Image Source: http://www.manhattanbride.com
In Japan, there are four main styles of wedding: Shinto, Christian, Buddist or non-religious.
The traditional Japanese wedding ceremony is Shinto-style, performed by a Shinto priest and held at a shrine. The ceremony itself is very formal and usually very private, with only close family and a few guests present.
Brides who choose a Shinto-style wedding wear a white kimono, called shiro-muku.
Here are some key traditions from a Nigerian wedding:
Instead of vows, the bride and groom drink sake three times (that's always a great start to a journey).
Nine is a lucky number in Japanese culture.
If you attend a Japanese wedding reception, it is expected that you are to bring a cash gift in an envelope, called shugi-bukuro. Your name is to be written on the front of the envelope and handed to the person at the reception prior to signing the guestbook. Guests typically gift an average of 30,000 yen, which is about $350 (another great start to a marriage journey).
Chinese Wedding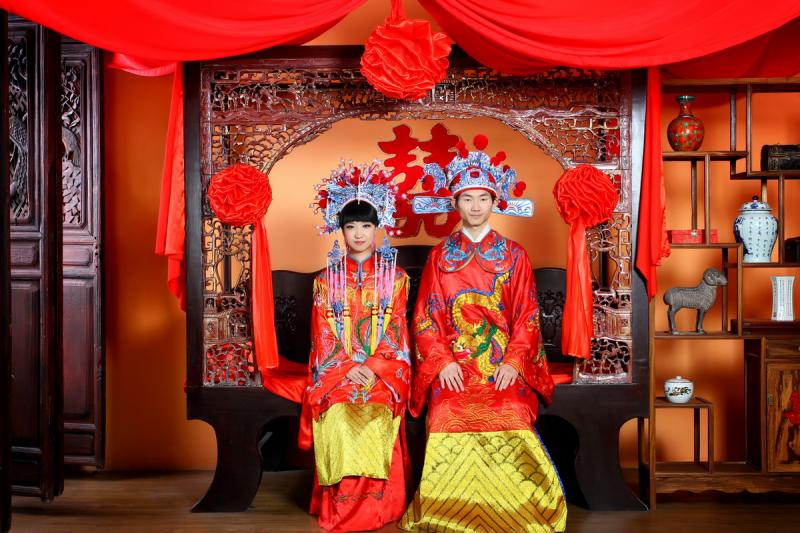 Image Source: https://www.easytourchina.com
At Chinese weddings, the bride will wear a traditional Chinese qipao dress. However and due to western influence, it is becoming increasingly common for a bride to wear a white dress. In a traditional Chinese weddings, the vows does not take place in the ceremony but at the local government office beforehand. So what you're actually attending is the ceremony. Red plays a vital role in Chinese weddings, because this color is associated with success, loyalty, honor, fertility, and love, and others. White, on the other hand, is commonly associated with funerals.
If you haven't subscribe yet, this is the perfect time to do so, follow the subscribe link,
HERE
, and don't miss out any of the fun.