First off,
HAPPY NEW YEAR
! May this year be filled with health and peace of mind. I want to thank you each and everyone of you faithful readers and followers who have been on this ride with me. I appreciate each and everyone of you. I have so much plan for this blog and I promised to make it all worth it. Which means more DIY, more wedding pictures, more recipes, more inspirations for all you entertainers and hostesses. So yes, follow me, subscribe to this blog, or drop me a note. I love to hear from my readers.
So in keeping with the New Year theme, our first post of 2016 is all about colors. Lighter shades to compliment your mood, events, or homes. More calming tones than those from last year, 2015 Spring colors, see the post
HERE
.
I couldn't help noticing as 2015 was wining down how many #shesaidyes and #engaged hashtags I saw floating through my social feeds and if you were one of those lucky bride-to-be, then this post is just for you.
I have your interest, good!
Now just because I mentioned bride-to-be doesn't mean everyone couldn't benefit from this post. In fact, another trend that have sparked my interest as of late, is home decorating with an artsy feels to it. So all you interior designers, housewives, and first time homeowners looking for color ideas and palettes, this one is for you too. Some of you may be familiar with
Pantone
, but for those newbies, Pantone, a New Jersey based company, is the leader in colors and color matching systems which is used in many industries. And every year, they put out their
Color Reports
to help consumers with their choices and this year is no different.
Here are the top ten colors for 2016
(drum-roll)
I love this palette. It screams spring and summer, fresh and innovative. Imagine the fun a designer can have with these colors. Like I said before for all those future I-dos, the possibility are limitless. If you're looking and asking yourself, how you can incorporate any of them into your event? I got you cover. Here are ten ways to use these shades.
First up is Rose Quartz - how beautiful is this hue? Soft and very girly. I can see this popping up in Spring when flowers are blooming and wedding bells ringing.
Next up is Peach Echo. Okay I added two pictures because this happened to be my favorite shade from the Color Report. I always said when I get married, this would be my color. Another great Spring color or even Summer. Endless options with this one. That cake is way too cute to cut into though.
Next is Serenity, like the name said it's a serene calm-like hue. Great for those manicure and pedicures. This would also work well on an accent wall in your home.
Snorkel Blue is a shade that will never go out of style if you asked me. Mixing this color with almost any other colors will work. All my business ladies, this is a great statement color
Buttercup just sounds fun. Look how beautiful the ladies look below. This specific color goes great on my brown-skin ladies. If this is too bright for you, try adding touches of it or fill your centerpieces with yellow sunflowers. Who doesn't get happy looking at sunflowers? I love the bouquets too.
Limpet Shell, okay I've never heard of this color but I love it all the same. A teal-like tone. Great outdoor color and in this white room it's perfect. See how the pink pops out more, that's what this color allows you to do. It doesn't overshadow another shade but still stands out.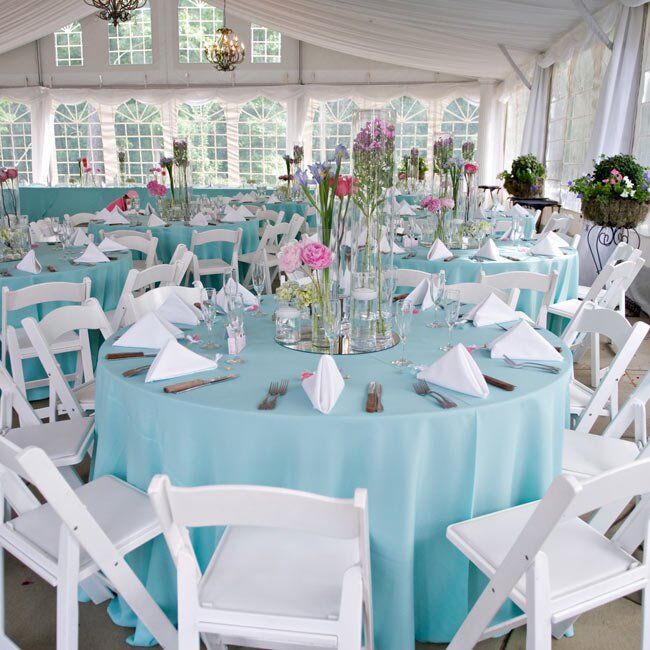 Lilac Gray works great on these walls. It's a perfect tone for a unisex bathroom or your bedroom. Often times, when we're thinking of decorating or a party, we don't really give a thought the men (they will say they don't care about colors anyways), but we need to think of them. Let's be honest ladies, no guy wants to be in a pink painted bathroom shaving. This is the best compromise. By the way I love the bathroom design.
Fiesta, yes you heard me, Fiesta is one of the colors. Vibrant color which will lighten up any designs, home or event. The thing with this color is you don't need to much of it, just add touches or pops of it and Voila! Remember that Limpet Shell tone? This is a perfect match.
Iced Coffee, well aside from this having the word coffee in it (which I am a confessed coffee addict and I'm on my 2-cups per day recovery) it's also a great color. Think of a outdoor barn wedding with lights, like below. A burlap feel to it. This color would work great during the fall season when you don't want to go to dark but staying away from the earlier bright shades. If you're in Florida, the fall season is when the weather drops to 89 C degrees and it's dark outside when you get off work. Don't want any confusion with 95 C degrees summer.
Last but certainly not least, is Green Flash. when I see this, I think of my earthy brides and grooms. My environmental-conscious host. My garden nuptials. Now, you don't have to be outdoors for this to work, inside would be great too. Maybe your centerpieces will be Green Flash with small green ferns as an accent on a gold charger. You see where I'm going with this? A nice green cover on some cocktail tables at a corporate function is a great way to show you care also. Think Mother Nature. It's not really a lime green or Forrest green, its Green Flash. Seriously, how do they come up with this names?
And there you have it. Ten beautiful shades to incorporate into your events, home, or decors. You have a lot to work with. Obviously, you don't have to use any of them (you rebels out there) but this is a great start to your planning process.
Which one is your favorite? Comment below and don't forget to share this post.
Sources Links:
https://s-media-cache-ak0.pinimg.com/736x/e5/71/b3/e571b3132504f764b389537c1550f8c0.jpg
http://i24.photobucket.com/albums/c31/chrissymarie98/1999/49efe87dc16dcf7b70e7328584a0f126.jpg~original
http://media4.popsugar-assets.com/files/2015/12/03/869/n/24155341/7c4804df7181a00e_pantoneserenity1dJFjak.xxxlarge.jpg
http://3.bp.blogspot.com/-clGbv3LoltU/Vkrn-ainjxI/AAAAAAAALBo/zmxP3DP665E/s1600/Snorkel%2BBlue.jpg
http://o.aolcdn.com/smp/is/wp-content/submissions/uploads/patricia@kantzos.com/18791/1689_0686$!x900.jpg
https://apis.xogrp.com/media-api/images/6694b68c-bfb0-f372-5dab-03c69ac69793~rs_729.h
http://www.fergusonshamamian.com/wordpress/wp-content/uploads/2011/02/98200300.jpg
https://s-media-cache-ak0.pinimg.com/736x/7e/ac/ca/7eacca7b774b42c5d8072b7a08831140.jpg
http://ak-hdl.buzzfed.com/static/2014-04/enhanced/webdr04/17/16/enhanced-15922-1397766693-17.jpg
http://www.ecinvites.com/wp-content/uploads/2015/09/boho-green-wedding-ideas.jpg